Typhoon Mawar is moving out to sea after lashing the northern tip of the U.S. Pacific territory of Guam Wednesday with high winds and heavy rain.
The latest advisory from the National Weather Service says Mawar is traveling northwest, away from the small island, with maximum sustained winds of 225 kilometers an hour, making it a Category 4 storm on the five-tiered scale that measures a storm's potential destructiveness.
Forecasters say typhoon force winds extend outward from Mawar's center up to 72 kilometers, with tropical storm force winds extending up to 233 kilometers.
Mawar - a Malaysian word that means "rose" - is expected to intensify slowly over the next few days, possibly becoming a Super Typhoon as it travels over the Philippine Sea well west of the Marianas. Guam and the nearby island of Rota remain under a typhoon warning.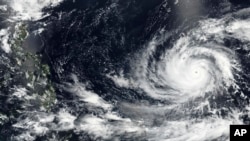 This May 23, 2023 satellite image released by NASA shows Typhoon Mawar approaching Guam.
The NWS had earlier warned that Mawar would lead to a "triple threat" of torrential rains, catastrophic winds and a life-threatening storm surge. Residents living in low-lying areas were urged to evacuate and local authorities opened temporary shelters. Warnings were issued for residents to keep away from windows and remain indoors as the eye of the storm passed over.
U.S. President Joe Biden has issued an emergency declaration for Guam, authorizing the Federal Emergency Management Agency to coordinate all disaster relief and "provide appropriate assistance for required emergency measures."
Guam is a crucial hub for U.S. military forces in the Pacific. The Associated Press says Rear Admiral Benjamin Nicholson, the commander of Joint Region Marianas, has authorized the evacuation of defense personnel and their families from the island. The AP says all U.S. naval ships have moved out to sea as a standard precaution, and that any military personnel still on Guam are sheltering in place.
Some information for this report came from The Associated Press, Agence France-Presse.